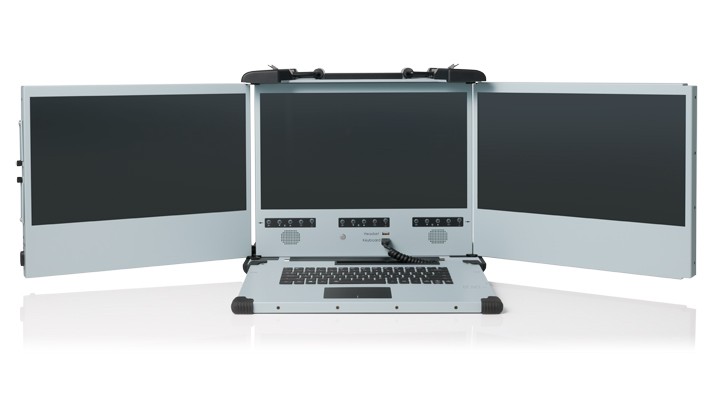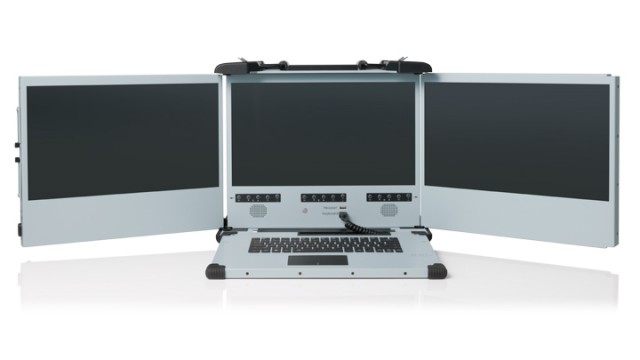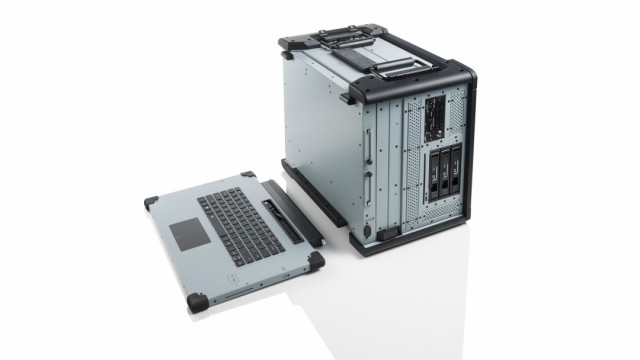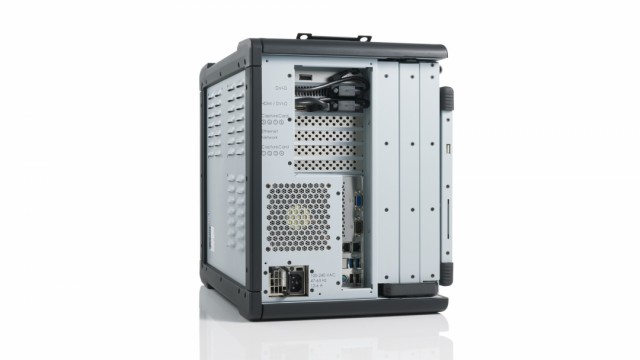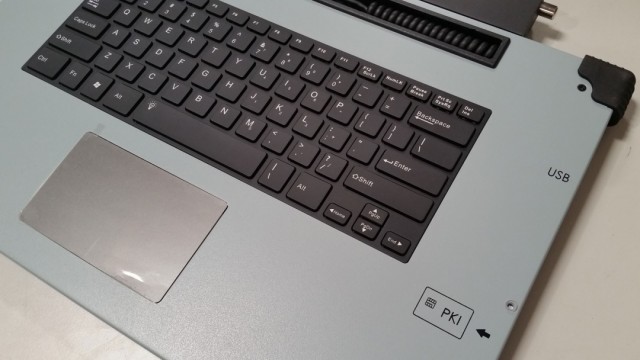 The most powerful portable on the planet.
The MILPAC-III is a transportable, deployable workhorse for C4ISR / C5ISR, GIS and geospatial applications. Rugged aluminum and composite construction provides survivability in deployed environments 24/7 and the ruggedness to withstand transport handling in wheeled and tracked vehicles and fixed and rotary winged aircraft.
A high-efficiency cooling and airflow system results in quiet, professional operation at normal ambient temperatures that can also perform when the environment gets extreme.
The latest Dual Xeon and Core Intel® processors provide ample computing power.
Three removable large capacity HDDs maximizes storage capacity..
CAC Card reader is built into the keyboard.
Three HD Displays
Three 17.3" HD displays give a working resolution of 5760 x 1080. Outputs for each display enable mirroring to external monitor or projector, and multiple SD/HD video capture inputs make the AGS-MILPAC-III the hub of an integrated C4ISR system. Add-on building block display modules are also available in a separate shipping case to expand the displays to a 9-display 3 x 3 configuration, or 5760 x 3240 scene space.
The AGS-MILPAC-III is highly configurable with the latest commercial computer technology; please contact AGS to optimize your specifications.
Fully Rugged Construction
The MILPAC-III is built to withstand harsh environments, transport handling on wheeled and tracked vehicles, and transport handling on fixed and rotary winged aircraft. Its rugged aluminum and composite construction provides survivability in deployed environments 24/7.
Serious Power
In addition to its highly rugged build, the MILPAC-III packs some serious computing power with Dual Xeon or Core Intel® processors, 3 HD displays and a high efficiency cooling system. An optional 'desert filter pack' is available, with a removable, washable filter element and four high pressure fans.
GeForce GTX-1070 Graphics Card
Max memory 512GB
Highly configurable platform for all military needs
Processing power and storage customizable.
Designed for Military
Mil-Std tested and certified deployable workstation.
An integrated CAC Card reader and HDMI out for each display make the AGS-MILPAC-III perfect for command and control applications in a situational awareness environment.
Products
AGS-MILPAC-III
(Xeon Intel®)
AGS-MILPAC-III
(Latest Core Intel®)
Dimensions / Weight
Folded: 14.625" x 17.25" x 12" (H x W x D)
Deployed at 45 degree angle: 15.25" x 43.0" x 18.75" (H x W x D)
Deployed at 90 degree angle: 15.25" x 48.0" x 11.75" (H x W x D)
Total chassis weight: 65 lbs
LCD Display
3x 17.3", 16:9 Display
Optional 6 or 9 displays
LCD Resolution
1920 x 1080 Per Display (Combined: 5760 x 1080)
CPU
The latest Dual Intel® Xeon® Server Processor
The latest Intel® Core™ Desktop Processor
RAM
The latest ECC RAM
The latest Non-ECC Unbuffered
Video Controller Options
Option 1: GeForce GTX Graphics
Option 2: Nvidia Quadro
PCIe Slots
Up to 7 PCI/PCIe Expansion slots
SATA
Typically 2x SATA 6.0Gb/s
4x SATA 3.0Gb/s
Typically 4x SATA 6.0Gb/s
4x SATA 3.0Gb/s
Storage
Up to 26TB
LAN
2 x Gigabit Ethernet
1 x Gigabit Ethernet
Power Supply
1000W internal 110/220V 50/60Hz auto-switching power supply, Removable without tools.
O/S
Windows 7, Windows 10 or Linux
Environmental
MIL-STD-810F, Method 514.5, Figure 514.5C-5 Loose cargo test setup , 0- 50 degree C
Mil S 901D Lightweight Class B
Shock
Operating: 10g, 11ms, Half-Sine
Non-Operating: 30g, 11ms, Half-Sine
Mil Std 901D Lightweight shock, Class B
Vibration
Operating: 10-500Hz (0.4Grms)
Non-Operating: 10-500Hz (1.12Grms)